Mandalay: The Last Royal City of Myanmar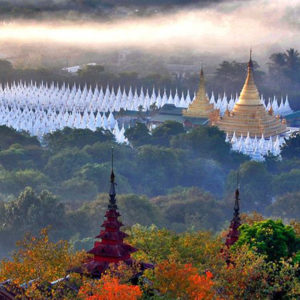 Mandalay is the capital of the region of the same name in central Myanmar. It is the second largest city in the country with over a million inhabitants. Founded in 1857 by King Mindon, this city on the banks of the Irrawaddy River is known as the last royal city of Myanmar until the British arrived in 1885. They took the city and settled in using it as strategic city and weapon storage. The story explains that each successive dynasty kings of the region have established a new capital around the city, moving some of the old elements. It is virtually nothing left of the first capital. One that survived the longest was Inwa.
Mandalay today remains the Burmese cultural hub and Buddhist religious center with many historical monuments such as the Royal Palace, the Pagoda Shwenandaw and 150 monasteries where more than half of the monks of the country reside. Mandalay is famous for its rich crafts such as wood and marble carving and manufacturing of gold leaf. It is also a paradise for puppets; you can buy them from the artisans and escape into several centuries ago by attending a puppet show where the Burmese legends are freshly represented.
We can say that Mandalay is still living in the past and that a visit to this place is like going back in time. With its splendid temples, sanctuaries, remarkable fortress at the foot of the hill, monks in procession, the beautiful surrounding countryside with the distant Shan mountains and the Irrawaddy River, Mandalay is one of the most beautiful regions of Burma. When night falls, you will see women move downhill to head back to the farm, fully loaded with long fresh grass. The sun setting behind the ruins on the edge of the rice field will leave a beautiful image. .
Not only Mandalay- the last royal city of Myanmar, travelers will also be seduced by the royal capitals surrounding it including Amarapura, Inwa, Sagaing and Mingun.