PASSPORTS & VISAS
A valid passport and an entry visa are required for all visitors. A tourist visa allows a stay of 4 weeks, extendible of an additional 14 days. A business visa allows a stay of 10 weeks, extendible to from 3-12 months on a case-by-case basis. If the visa is expired by a day or two, it is possible to pay three dollars per day.
ENTRY VISA FORMALITIES
It can be obtained all the visitors traveling in Myanmar under the arrangements of local tour operators. The complete personal data is required (two weeks ahead). We need the scanned passport of the client two weeks ahead including arrival and departure flight time.
As soon as we receive those data, we apply for arrival visa and finally we will send the letter with the kind attention to airlines concerned or To Whom It May Concern, depending on the airlines which the passengers take. The passengers have to bring that letter with them when they come to Myanmar in order to show at the transit counter before embarking on board. Please bring two passport-sized photos for the visa. The validity is four weeks.
CUSTOMS
Foreign currencies, jewelries, electrical goods and video cameras must be declared at the airport. Duty free allowance: Two bottles of liquor; two cartons of cigarettes; 100 cigar; 1.5 lb of tobacco; one pint bottle of perfume or eau de cologne.
PRE-DEPARTURE PREPARATIONS
A travel insurance policy to cover theft, loss and medical problems is a wise idea. Aspirin or Panadol (for pain or fever), Antibiotics, Calamine lotion (to ease irritation from bites or stings), Bismuth preparation (Pepto-Bismol), Imodium or Lomoti (for stomach upsets and diarrhea), Bandages (for minor injuries), Insect repellent, sunscreen, suntan lotion, chap-stick and water purification tablets are recommended to carry.Ideally antibiotics should be administered only under medical supervision and should never be taken indiscriminately.
AIRPORT DEPARTURE TAX
There is a departure tax of 10 USD per person payable on international departures only. There are no taxes for domestic flights.
MOBILE & INTERNET
MOBILE PHONES
Most of your mobile phone will NOT work in Myanmar as Myanmar has currently no roaming agreement with most of the country.
INTERNET
Internet access is still in its development stages. Internet is also regulated in Myanmar and the access to some websites is filtered or impossible. Note that some free mail services like Yahoo, Gmail or Hotmail can be accessed in Myanmar recently.
Most of the hotels have now some internet terminals and in cities like Yangon, Mandalay and Nyaung Shwe (Inle Lake), you will also find some small internet cafés. Internet connections in Myanmar are generally slow and some patience will be required! There is Wifi free service in some public area and some hotels nowadays.
EXCHANGE
You can change money at the banks at Yangon airport or city. Exchange rate at bank is better. US DOLLARS are accepted for change everywhere and the EURO is getting more and more popular, especially in Yangon. The exchange rate in Yangon is generally better than upcountry.
Please bring new series US Dollar bills ("big heads" instead of "small heads") and with series numbers not starting with CB as these are not accepted in Myanmar due to rumors of these series being counterfeit. Generally notes should be in very good condition and not torn, dirty or washed out as these will not be accepted in Myanmar, even in many hotels!
Do not require to change a lot to local currency if you already bought package tour. You can use US dollars at most of the place.
CREDIT CARDS & TRAVELLERS CHEQUE
Credit cards and Travelers CHEQUE are currently mostly NOT ACCEPTED in Myanmar. Only some upscale restaurants and some hotels do accept credit cards with a charge (minimum 3%). As charging these cards requires going through the Internet, some delays can be experienced if the Internet connection is not working or slow.
Recently, tranvellers can withdraw local currency (KYATS) from their VISA/MASTER CARD through ATM MACHINES in banks, airports, shopping centers, etc. But withdraw amount is still limited, 1,000,000 Kyats per day and 300,000 Kyats per time. The same internet connection problem may occur.
Please make sure to bring enough cash (USD or EUROS) for main expenditure. Most hotels accept US Dollars as payment.
CURRENCY
The currency in Myanmar is the Kyat (pronounced 'chat'). As in many countries of the area, the US Dollar is the most useful currency to carry and it can be exchanged into local currency. However there is no need to change big amounts into the local currency as most of the places catering to tourists also accept payment in US Dollar bills.The biggest kyat bills are 1000,5000 and 10000 kyats. Equivalent roughly 1 USD Dollar = 1300 Kyats.
The FEC (Foreign Exchange certificate) is not valid to use anymore.
GEMS / PRECIOUS STONES
Myanmar is well known for its riches in precious stones, especially rubies (pigeon blood) and jade (imperial jade). Should visitors chose to purchase gems, they do so at their own risk and rely solely on their own judgment and knowledge. Thuta Travel does not assume any responsibility for gem and antique purchases through "recommendations" made by our guides. Our guides are instructed not to recommend any specific shop. Even if pressed to do so by visitors, the sole responsibility for their purchase lies with the buyer. A relative guarantee for the quality of purchases is given by an official receipt and certificate issued by government licensed dealers. Prices in such shops are higher but are more credible and would theoretically allow you to return the purchase in case you are unhappy or if it is of lesser value. The issued paper can also be shown when exiting the country as export of gems and stones, and without such a government issued paper are illegal.
INSURANCE
Medical facilities are rather limited in Myanmar (Yangon has the best facilities) and it is essential to take out a good medical insurance policy before traveling. Such an insurance should absolutely cover the cost of an evacuation flight out of Myanmar (most of the time to Bangkok or Singapore) which is sometimes necessary either on a regular flight or on a special flight. For adventure tours, such as cycling, proof of purchase of a travel insurance policy will be required.
CLOTHING
Comfortable lightweight clothing in natural fabrics such as cotton is most suitable for traveling in Myanmar. The dress code is fairly casual as in most parts of the tropics but it is advisable to cover arms and legs in the evenings against biting insects. A lightweight raincoat and umbrella are a good idea in the rainy season and the umbrella can also offer useful shade from the sun. Evenings in the hill stations and on Inle Lake can be quite chilly so bring a sweater or other warm clothing if visiting these areas. This applies especially for the winter months from November to February for treks and the Inle lake area where early morning boat rides can be quite cold. Visitors should not wear shorts, short skirts or other skimpy clothing when visiting pagodas and monasteries.
Shoes (and socks!) must be removed before entering any religious building or private home. It is therefore useful to wear shoes without too many laces and which can easily be taken off.
ELECTRICITY
Myanmar uses 220V, and a mixture of flat 2-pin, round 2-pin or 3-pin plugs. It is recommended to bring a universal plug adaptor. Power outages are quite common but most hotels have their own generator.
ENTERTAINMENT
There is not much in the way of western style entertainment in Myanmar but Yangon has some good restaurants and there are a few bars and nightclubs, notably in the city's international hotels. In the rest of the country, entertainment is mainly confined to the hotels, mainly tourist orientated restaurants and the ubiquitous Burmese teashops.
FOOD
The staples of Burmese cuisine are rice, rice noodles, and curries. The main ingredient of the meal is usually rice and the curries tend to be not as spicy as those from India or Thailand. A clear soup called 'hingyo' accompanies most meals and a fermented fish sauce or paste called 'ngapiye' is usually served to add to the flavor. Chinese, Indian and European food is served in restaurants at most tourist places.
HOURS OF BUSINESS
Offices are usually open from Monday to Friday from 09:30 until 16:00. Most shops are open every day. An exception is Bogyoke Market (Scott Market), which is closed on Monday, on public holidays and full moon days (like all markets in Myanmar).
LANGUAGE
The national language of Myanmar is Burmese, of which there are over 80 different dialects spoken. The written language uses an amazing looking script based on ancient Indian characters. In the cities many of the older generation still speak very good English and it is also becoming popular again with the younger generation.
PUBLIC HOLIDAYS
| | |
| --- | --- |
| Independence Day | January 4 |
| Union Day | February 12 |
| Farmer's | Day March 2 |
| Armed Forces Day | March 27 |
| New Year Holidays | April 12-21 |
| Labor Day | May1 |
| Full moon of Kason | May 2 |
| Full moon of Waso | July 11 |
| Martyr's Day | July 19 |
| Full moon of Thidyingyut | October 8 |
| Full moon of Tazaungmone | November 6 |
| National Day | November 16 |
| Karen New Year | December 21 |
| Christmas Day | December 25 |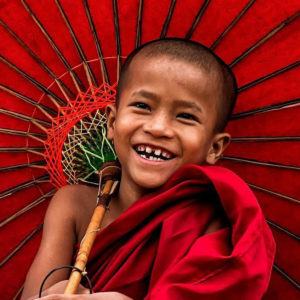 RELIGION
Buddhism is the dominant religion in Myanmar and over 85% of the population practices it. The monastery is the traditional focal point of village life in Myanmar and monks rely on villagers for donations of both money and food. Every boy in Myanmar is expected to spend sometime as a monk. The remainder of the population are Christians, Muslims and animists.
SHOPPING
There are many fantastic local products in Myanmar that make excellent souvenirs and memories from your trip. Traditional crafts include lacquer ware, especially in Bagan, woodcarvings, stone carvings, bronze work, rattan, silver jewelers, silk longyis and hand-woven textiles.
TIME DIFFERENCE
Myanmar is 6h 30 min ahead of GMT in winter and 5h 30min in summer: 1500H GMT = 2130H in Myanmar (winter). Myanmar is 30 minutes behind Bangkok (Thailand) time: 1500H in Bangkok = 1430H in Myanmar.
TIPPING
Tipping for good service is not expected but is always appreciated in a country where the average annual income is only around 250 USD per month. It is customary, though not compulsory, to tip tour guides and drivers at the end of a tour. Hotel and station porters can also be tipped.
WEATHER
Myanmar has three seasons similar to many other parts of Southeast Asia. The Southwest monsoon starts at the end of May or beginning of June and lasts until the end of September. This season brings frequent and heavy downpours of rain, mainly in the afternoon and evening especially in Yangon, the rest of the country is dryer. In the rainy season the weather is more humid what can make travelling less comfortable. The rains give way to dry weather in October and the temperatures are generally lower and more pleasant at this time. In March the temperatures start to climb again leading up to the next rainy season at the end of May.
Temperatures between March and May can be very hot reaching over 35 C in some places.
NOTE: Myanmar is in the northern hemisphere so it is also winter from November to February. You need to bring some warm clothing for early mornings everywhere, and especially for higher areas like Shan State (Kalaw, Inle Lake, Pindaya, Kengtung, Putao). The hotels in those areas are NOT equipped with heating or fireplaces so be prepared for some colder nights!
WATER
It is not advisable to drink tap water but bottled mineral water is safe and available everywhere. All hotels provide a complimentary bottle of local mineral water per person in the room. Ice cubes in drinks is generally OK in good standard hotels and restaurants but it is best to avoid it on street stalls or in country areas. Some minor stomach problems are always possible when traveling in exotic countries. Bring a supply of your usual anti-diarrhea medicine.