Daw Aung San Suu Kyi
The leader of the opposition to the ruling military government in Myanmar (formerly Burma), Aung San Suu Kyi brought international attention to the struggle for human rights and the restoration of democracy in her country. An advocate of nonviolent protest, she was under house arrest in Yangon when she was awarded the 1991 Nobel prize for peace.
Aung San Suu Kyi was born on June 19, 1945, in Rangoon (now Yangon). Her father, Aung San, regarded as the founder of modern Burma after negotiating the country's independen
ce from Britain, was assassinated in 1947. Her mother, Khin Kyi, a prominent diplomat, was named ambassador to India in 1960. After studying in India, Aung San Suu Kyi earned a bachelor's degree at the University of Oxford, where she met her future husband, British scholar Michael Aris. She subsequently worked for the United Nations in New York City and in 1985–86 was a visiting scholar in Southeast Asian studies at Kyoto University in Japan. She returned to Burma in April 1988 to care for her ailing mother, who died later that year.
By the end of 1988 Aung San Suu Kyi was heavily involved in the protest movements sweeping the country against the brutal rule of military strongman Ne Win. She initiated a nonviolent struggle for democracy and human rights, helping to form the National League for Democracy (NLD). In July 1989 the military government placed her under house arrest. The military offered to free her if she agreed to leave Myanmar, but she refused to do so until the country was returned to civilian government. In the 1990 parliamentary elections, the NLD won more than 80 percent of the seats that were contested. The military government ignored the election results, however, and did not allow the new parliament to meet. Freedom from Fear and Other Writings, a collection of her articles and speeches edited by Aris, was published in 1991 following the Nobel prize announcement. She was eventually freed from house arrest in July 1995.
Despite her release, Aung San Suu Kyi was officially barred from leading the NLD, and her movements remained restricted. In 1998 she announced the formation of a representative committee that she declared was the country's legitimate ruling parliament. The military regime once again placed her under house arrest from September 2000 to May 2002.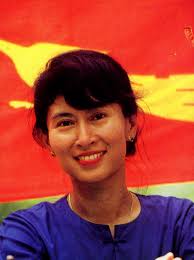 Following clashes between the NLD and pro-government demonstrators in 2003, the government returned Aung San Suu Kyi to house arrest. The international community continued to call for her release. In May 2009, shortly before her sentence was to be completed, an intruder (a U.S. citizen) entered her house compound and spent two nights there. Aung San Suu Kyi was arrested and convicted of breaching the terms of her house arrest.
It was widely believed that this conviction was intended to prevent her from participating in the 2010 multiparty parliamentary elections-the first to be held since 1990. Indeed, in 2010 new election laws barred individuals who had been convicted of a crime from participating. They also prohibited anyone who was married to a foreign national (as she was) from running for office. In support of Aung San Suu Kyi, the NLD refused to reregister under these new laws (as was required) and was disbanded. In the November elections, the government parties won an overwhelming majority of legislative seats amid widespread allegations of voter fraud. Six days after the election, Aung San Suu Kyi was released from house arrest. She vowed to continue her opposition to military rule.
Her party boycotted the 2010 elections, resulting in a decisive victory for the military-backed Union Solidarity and Development Party. Aung San Suu Kyi became a Pyithu Hluttaw MP while her party won 43 of the 45 vacant seats in the 2012 by-elections. In the 2015 elections, her party won a landslide victory, taking 86% of the seats in the Assembly of the Union – well more than the 67 percent super majority needed to ensure that its preferred candidates were elected President and Second Vice President in the Presidential Electoral College. Although she was prohibited from becoming the President due to a clause in the constitution – her late husband and children are foreign citizens – she assumed the newly created role of State Counsellor, a role akin to a Prime Minister or a head of government.