Hpa-An
Unveiling the Hidden Natural Wonders of Hpa-An
This land of hidden natural wonders located in the Kayin State, to the south of and near the Golden Rock, is a great stop for one or two nights when traveling between Kyaiktiyo and Mawlamyine (Moulmein). Hpa-An is a dynamic business center. Do not hesitate to make a turn to the market in the morning when the activity is in full swing, you will love the friendliness of the people. The population is mainly composed of the Karen and the Burmese.
Visitors come here means they are unveiling the hidden natural wonders of Hpa-An, a little paradise of rice fields out of sight and karst peaks form the main feature of this area which is still very little frequented by travelers. From Hpa-An you can go hiking in the surrounding countryside. There are many temples and other worship places to see, including Buddhist caves. You discover in Hpa-An the sweet life of Burma, the gentleness and friendliness of its people and sumptuous preserved landscapes.
The main attractions around Hpa-An are: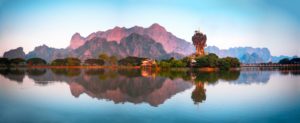 Saddan Cave
Located in a beautiful setting, this cave is home to the quintessence of Buddhist art. It's an impressive and timeless place where you can admire beautiful stalactites, fluorescent green vegetation and especially sumptuous frescoes narrating the previous lives of the Buddha. You will discover the superb Buddha torchlight with golden reflections. Leaving the cave, you will be dazzled by the beauty of the landscape bathed in an unreal light: a lake, rice, water lilies. How calm and serene!
This cave is not only the largest in the region but also the farthest from Hpa-An (27 km).
Lumbini Garden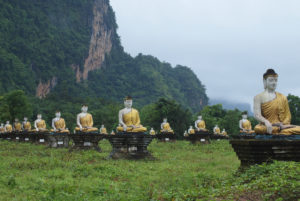 This garden is a beautiful sight with its hundreds of Buddha statues in golden robes, all identical and perfectly aligned.You can take great pictures with Mount Zwegabin background. The craftsmen who make the Buddhas live right at the end of the garden, near the mountain. Do not hesitate to say hello, it is a touch of kindness.
Mount Zwegabin
Mount Zwegabin is in the background of the Lumbini Garden. The climb is a must experience if you are in good physical condition. The ascension is mainly through the steps and it takes about two hours. It is advisable to leave early to avoid the heat and enjoy beautiful light. From the top you have a breathtaking view of rice fields and small villages.
Kyauk Kalap Pagoda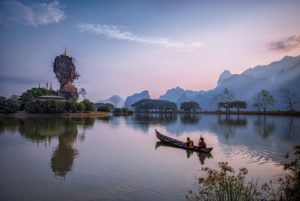 This small pagoda, situated on a large rocky outcrop in the middle of a lake, offers breathtaking views. The spectacle offered by the mountains, the lake and paddy fields is beautiful. The monks give you a little wood lucky bracelet. It is a sublime site that will delight you.
The pagoda is half an hour from Hpa-An.