Myanmar Famous Destination
Known as the land of fanciful natural beauty and unique ancient culture, Myanmar today has become one of the most favorite destinations of international tourists in Asia. Myanmar Famous Destinations are Yangon, Bagan, Mandalay, Inle Lake. Come to Myanmar, you will have a good opportunity to enjoy the ancient architecture nested in the mist at every dawn of Bagan, admire the magnificent Yangon or immerse yourself in the tranquil beauty of the sunset on Inle Lake. If you are planning a trip to Myanmar, this article is a useful guide showing you 4 favorite destinations which you should not miss for one of the most memorable Myanmar tours.
Yangon – one of the most attractive Myanmar destinations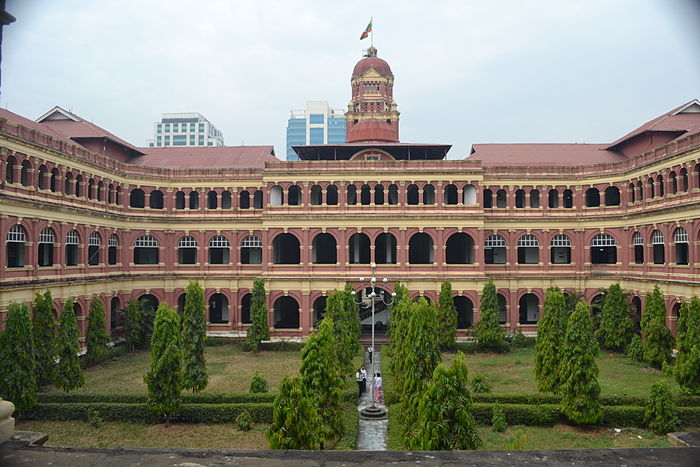 The first place to visit in Myanmar tours is definitely Yangon. Being the capital of Myanmar and now the largest city here, Yangon attracts tourists with unique custom, special culture and the beauty of a green city.
There are a lot of green trees on either side of the road, the park is filled with lush old trees and colorful flowers. Airplanes to Myanmar will mostly land in Yangon. Besides, Yangon has a crowded downtown with ancient buildings and beautiful European architecture. Many monuments such as the post office, the people's committee, the church still retain original architecture with high ceiling, arched door, exterior carved….
In addition, the bustling downtown area here is very lively. Take a stroll along one road of Yangon – one of the most popular Myanmarese destination, you also can experience the life of Myanmarese people, admire Myanmarese man and woman in their colorful traditional "longyi" and explore the beautiful culture here.
Come to Yangon, you will have a great opportunity to visit one of the most important religious sites of Yangon as well as Myanmar's Shwedagon Pagoda.
Visitors can even see the magnificent tower of Shwedagon Pagoda from many locations in the city. The entire area of Pagoda has gold-framed Buddhist buildings with elaborate architecture, but the main tower remains the center of attention for all believers and visitors.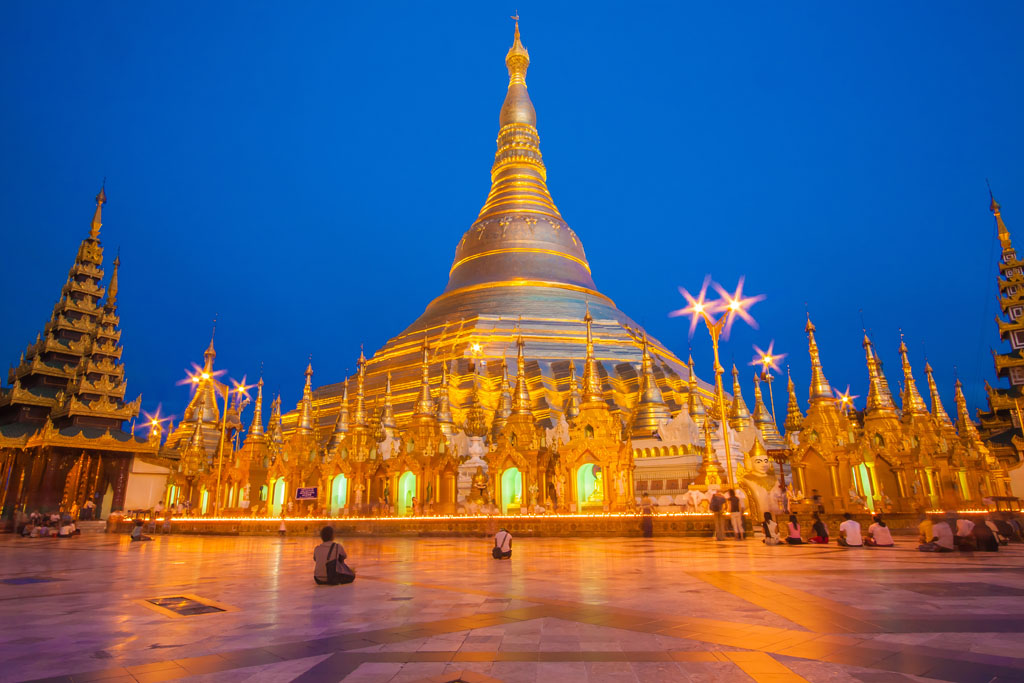 Shwedagon Pagoda is open from 4 AM – 10 PM every day. It's really crowded with believers to worshipers as well as visitors. When you go to Shwedagon Pagoda, you have to take off your shoes, so bring comfortable shoes and put them in your backpack. Note that when visiting the pagoda at noon, the heat at this time will make the brick background extremely hot. You need to be careful when walking barefoot.
Another interesting experience that you should not miss in Yangon on your Myanmar tours is enjoying street food. The unique taste and special processing of street foods of Yangon cuisine always make the tourists surprise. Here are some distinctive dishes that you should enjoy: E Kya Kway, steamed yellow beans, Roti, Koh Pieh, Koh Puo, Samosa salad, Mont Lone Yay Paw…The feeling of enjoying delectable Yangon street food while chatting happily with friends among the bustling atmosphere of Myanmar's summer night will be a truly memorable experience.
Bagan – ideal destination for perfect Myanmar tours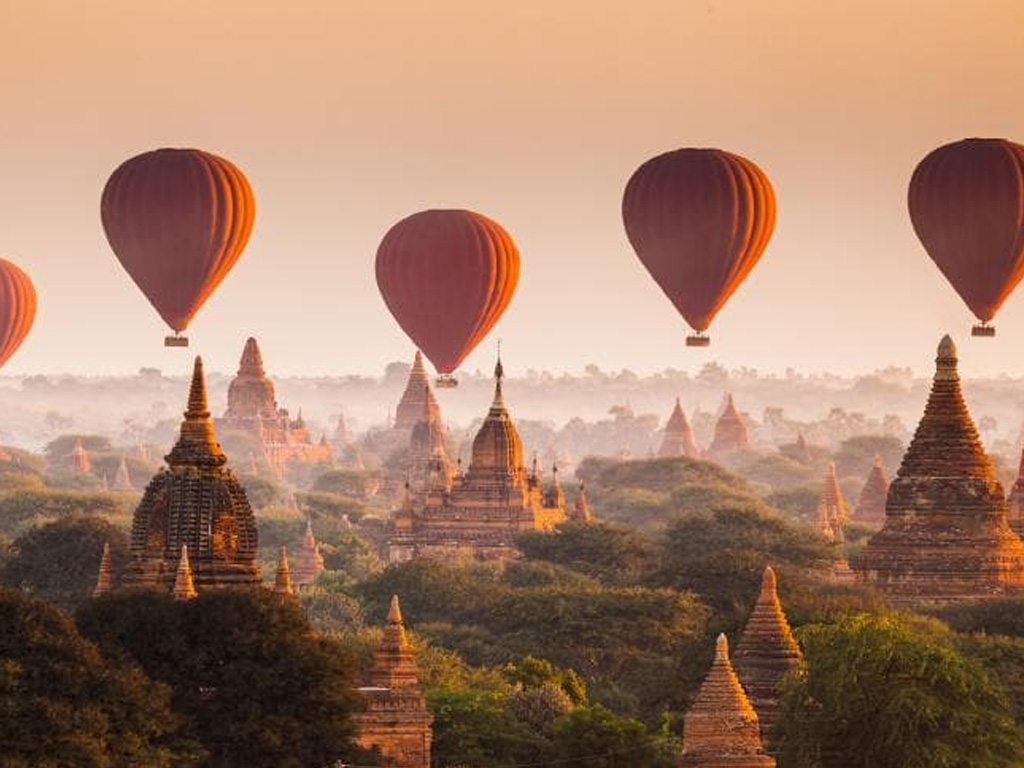 If your favorite is a unique culture, which is a mystical religious beliefs, Bagan can be the next ideal Myanmarese destination for you. Nearly 4,000 temples and pagodas which scattered across a vast plain of Bagan are the most appealing to visitors to Myanmar. Each temple has its own story associated with each dynasty or people at the time it was built. Here, there is no incense smoke, no noisy festival but only the pagodas, the top of the tower, the ancient moss-covered brick wall by the side of the road.
Coming to Bagan in Myanmar tours, you can freely explore this mysterious city with all kinds of vehicles such as walking, horse carts, bicycles, electric motorcycles, motorcycles, and taxis. In particular, the most special transportation which makes the difference of Bagan is hot air balloon. Hot air balloons are heated every day to prepare for visitors' journey at any time of the day. If you visit around Bagan with a hot air balloon, you need to pay $400 for nearly an hour of flying in the sky. Hot air balloon will help you enjoy all spectacular views in both old and new Bagan as if two halves of the past and the future. This experience also let you admire the picturesque scenery of Bagan by a unique method.
With an extraordinary view of white cows, the longyi girls inviting tourists to buy a fresh flower worshipping Buddha and try the horse carriage, you can totally relax and enjoy a peaceful moment, hide far from busy life. And you will hear your heart whisper prayers in this mysterious land.
Mandalay – the last royal capital of Myanmar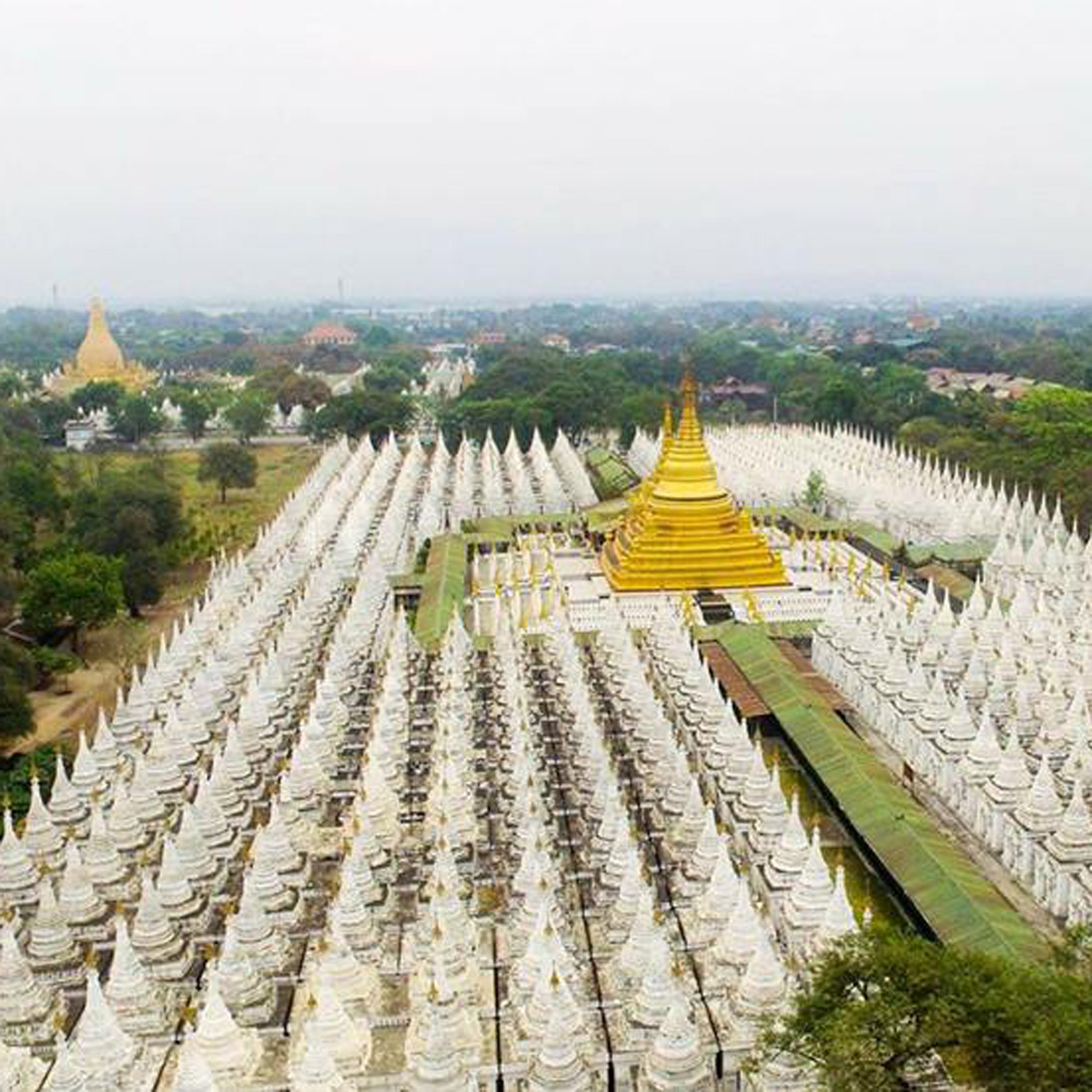 Unlike crowded Yangon, quiet Bagan, Mandalay has become one of the must-visit destinations in Myanmar tours thanks to the ancient beauty of the old buildings. As the last royal capital of Myanmar, Mandalay also owns many monuments, spacious pagodas with different architectural styles.
The first famous place in Mandalay is probably the 1.2 km Ubein Bridge crossing a lake. This bridge is made entirely of solid wood. Come to Mandalay, you will also have the opportunity to admire the splendid scenery of the sunset with the orange sun shining on the bridge. The sunrise in Mandalay is also great so do not miss it.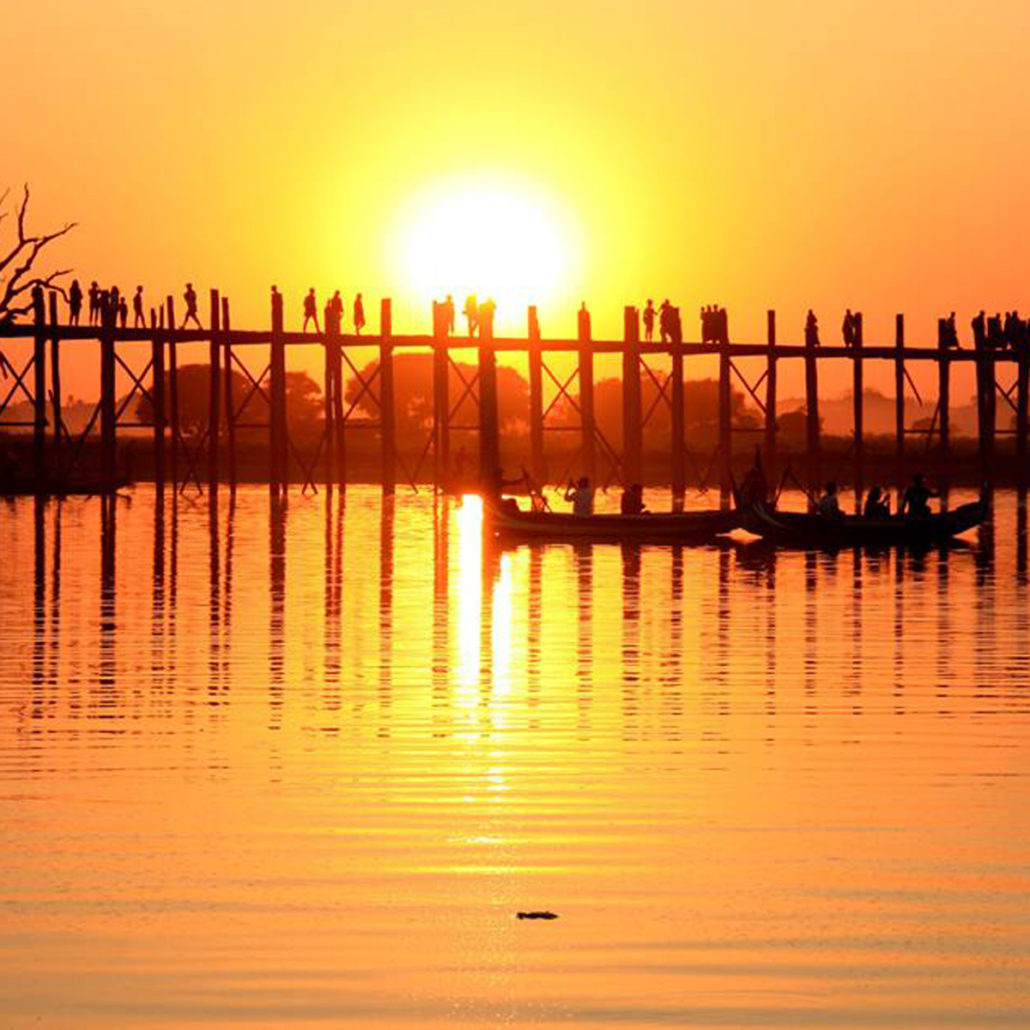 Leaving Ubein Bridge, you can visit the next famous place in Mandalay: Maha Muni Pagoda. Maha Muni is Mandalay's holiest pagoda, which is second only to Shwedagon Pagoda in Yangon in terms of its popularity. It is really spacious and beautiful, with many doors and corridors leading into the main area. Coming here, you will be impressed with the large gold-plated Buddha statue and the 4-meter-high, which is especially in the area that only allows men to enter, all women can only see the statue from the outside. Get inside and you will feel the sacred atmosphere, as well as the cult of the people with their faith.
Last experience which you should not miss in Mandalay for memorable Myanmar tours is Mingun old village. Mingun is about 11km from Mandalay, so you can come here by road, but most of the international visitors to Mingun go by riverway.
Most visitors to Mandalay do not miss this impressive tourist destination, because it houses many of Myanmar's most important historical sites, most notably the Mingun Pahtodawgyi ruins, built by red bricks which if completed will be the largest brick Buddhist architecture in the world with a planned height of 150m. It was built between 1790 and 1797 under King Bodawpaya, but due to the economic decline, this great work was halted and left unfinished after the king's death in 1813.
Inle Lake – flawless stopping place for your Myanmar tours
The last famous Myanmar destination we want to mention is Inle Lake.
Located at an altitude of about 889 m above sea level, surrounded by majestic mountains, and covering an area of about 220 km2, Inle Lake is not only famous for its picturesque majestic natural beauty but also the residence of the Inthar (a minor ethnic group of Myanmar). Inle Lake today become one of Myanmar's favorite destinations. It is also the gathering place of fishermen and the tomato plantations lurking on the water.
If you've visited all the corners of Inle Lake, you can not miss the spectacular sunset view here. An orange glow from the sky gradually diminished, brightening a corner of the sky; the scene becomes sparkling fanciful. Visitors will totally be bewildered in front of this peaceful and romantic space. Taste some traditional food, enjoy those brilliant moments with your friends or family here can be an unforgettable memory. Riding on the Red Mountain where located both the famous vineyard and the wine making location of the country is an enjoyable experience too.
After, you can drop yourself under a large tree and start watching the whole Inle from above, enjoy a glass of wine under the cool sky, it will feel like you're in a peaceful countryside in France.
With these magnificent nature and beautiful ancient cultures, Myanmar is exactly one of the favorite tourist destinations in Southeast Asia. Get ready for a great experience in Myanmar. And if you want to have an unforgettable trip with convenient and professional service, take Myanmar tours with us.