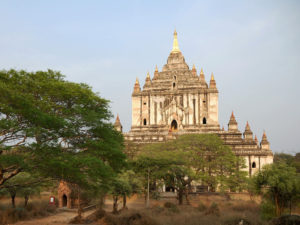 Name: Thatbyinnyu Temple
Built by: King Alaungsithu
Built in: AD 1144
Style: Middle period Two storey
Location: At Old Bagan
Monument Number: No. 1041
Thatbyinnyu Temple
Thatbyinnyu signifies omniscience one of the attributes of the Buddha. The temple was built about the middle of the 12th century A.D. by King Alaungsithu, grandson and successor of the King who erected the Ananda.
Standing within the city walls, some 500 yards to the south-west of the Ananda, the Thatbyinnyu rises to a height of 201 feet above the ground and overtops all the other monuments. Its general plan is not unlike the Ananda, but it does not, like the latter form a symmetrical cross. The eastern porch alone projects considerably from the wall.
It has two main storeys and the Buddha image is seated on the upper floor. The central stairway guarded by two standing figures of guardians faces the eastern hall and entrance. The steps lead to a circumambulatory corridor round the central mass. Climbing up one of the pair of stairs built in the thickness of the walls one reaches the top of the vestibule from where an external flight of stairs lead to the upper storey.
The high cubicles, the comer stupas on the terraces, the flamboyant arch-pediments and the plain pilasters combine to give a soaring effect to the monument. The two tiers of windows in each storey make the interior bright and airy. But the walls are bare and the recesses along the plinth and terraces do not contain any glazed plaques.
To the south-east of the temple, in a monastery compound close by, stand two tall stone pillars built to support a huge bronze bell. The pillars have foliations in the pattern of an inverted V carved in relief. A small temple to the north-east of the monument is known as the tally pagoda which is said to have been built with one brick for every ten thousand used on the main structure.