Pakokku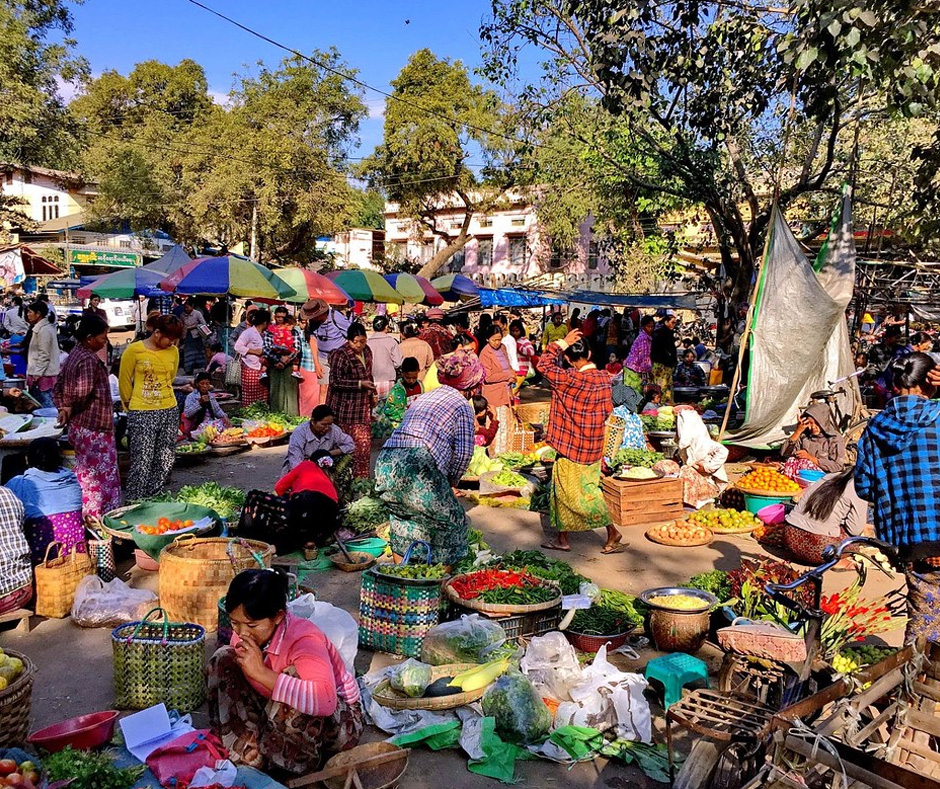 Pakokku (Burmese: ပခုက္ကူမြို့, [pəkʰoʊʔkù]) is a largest city in the Magway Region in Myanmar, also known as Burma. It is situated about 30 km north-east of Bagan on the Irrawaddy River. It is the administration seat of Pakokku Township , Pakokku District and Gangaw District. Pakokku Bridge is part of the India–Myanmar–Thailand Trilateral Highway and is the longest bridge in Myanmar.It is home of the Pakokku airport.
The city is the location of Computer University, Pakokku, Pakokku Education College, Technological University, Pakokku, and Pakokku University. Thiho Shin Pagoda(The Lord of Sri Lanka Pagoda), Shwe Ku Pagoda, Shwe Mothtaw Pagoda,Shwe Tant Tit, and Phaung Taw Oo Pagoda are famous pagodas which locate at Pakokku. Irrawaddy Bridge (Pakokku) is the longest bridge in Myanmar.
History
Before British occupation, Pakokku was a small village and part of Pakhangyi District and Bagan District. The British occupied Upper Burma in 29 November, 1885. On 1 December 1887, British India Government established Pakokku Municipal. On 21 December 1887, British India government ordered Pakokku as a town of Pakhangyi District with the population of 1,985. By the order degree (201) of British Government, Pakhangyi District was abolished and Pakokku District was established in 21 July 1888. In 1901,the population of Pakokku was 19,456. During 13 years,Pakokku's population and developments were increased rapidly.
In 1896,Pakokku became a capital city of Pakokku Hill Tracts Districts (including Pakokku District, Chin State, Gangaw District, Naga Self-Administered Zone, Nagaland, Mizoram, Tripura, Manipur and Meghalaya).
In the early months of 1930,Political speeches were held in Shwegu Pagoda for Burma's colonial separation from British India.U Lwin was appointed a new mayor of Pakokku in 7 November 1930. Pakokku Municipal election was held in 10 December 1930. At the early morning of 22 March 1931,heavy fire burned in Pakokku and more than 3,000 people were homeless. So,Pakokku Fire brigade was established in 7 April,1931.
When Myanmar(Burma) was independence in 1948,Pakokku Hill Tracts Districts was divided into two sections. Pakokku District, Gangaw District, Naga Self-Administered Zone and Chin State became a Parts of Myanmar(Burma) and Nagaland, Mizoram, Tripura, Manipur and Meghalaya became a parts of India.
By 1947 Construction of the union of Burma,Pakokku province was established with two districts in 1948. They are Pakokku District and Kanpetlet District with 11 townships. Townships are Pakokku, Kanpetlet, Yesagyo, Pauk, Seikphyu, Myaing, Gangaw, Htilin, Saw, Mindat and Matupi.Pakokku was occupied by Communist rebels in 1949 and held until 1955, when it was liberated by government forces. In 1958,the name of Kanpetlet District was changed into Mindat District and Kanpetlet District's Capital was moved to Mindat from Kanpetlet. Province's Capital city was Pakokku.
On 2 March 1962, the military led by General Ne Win took control of Burma through a coup d'état, and the government has been under direct or indirect control by the military. A new constitution of the Socialist Republic of the Union of Burma was adopted in 1974.
By 1974 construction,Pakokku province was abolished and Pakokku District was added to the Magway Division and Mindat District was added to the Chin State until now. In the year of 2003,Pakokku District was divided into two districts. Pakokku, Pauk, Yesagyo, Myaing and Seikphyu became Pakokku District and Gangaw, Saw and Htilin became Gangaw District.
Pakokku Bridge construction was started on 15 December 2009 and ended on 31 December 2011. It was opened in 1 January 2012, and is the longest bridge in Myanmar.
Pakokku is like a bus stop on the west side of the Ayeyarwady river. It is a very friendly town that will greet you with great respect. It is a very quiet and traditional town that is located 25 km north of the more well-known and perhaps busy town of Bagan. It is connected to Bagan by a new road and railway bridge over the river which contributes to the easy transport to and from Pakokku only taking around 30 minutes. It has rich history for tobacco trading and is well-known for this. Due to the town being fairly quite I would not recommend more than a few hours here as although it is good to get away from the busier side of things in Bagan more than a few hours here might see you getting a little bored. However, 20 km north west of the town you will find the remains of Pakhangyi. You can enjoy some time here finding about its old city walls, archaeological museum and one of the oldest, still standing wooden monasteries in the entire region. A good time to visit Pakokku where a little more might be going on is at the end of May or beginning of June when the Thiho Shin Pagoda Festival takes place. If visiting, you will find a country fair and traditional plays. If you choose to linger around possibly in May or June when the festival is on, you may choose to go to the basic riverside home stay that many visitors outline the highlight of their trip.