6 Days / 5 Nights in Myanmar
Tour Code : TT – 004 YANGON-BAGAN-MANDALAY-AMARAPURA-SAGAING-MANDALAY-MINGUN-MANDALAY-YANGON
Day1. YANGON (arrival with morning flight)
Upon arrival at Yangon, check into your hotel. A uniformed host will invite you a welcome drink and collect your tour program from our tour guide.
City tour includes downtown and Rangoon's riverfront. On the way see many of the remarkable sites of the colonial and religious past of this garden city. Old Rangoon was Dr. William Montgomery's design. He was the army superintendent surgeon and learnt his city planning skills from Sir Stanford Raffles in Singapore. Buildings of heritage in Yangon are now listed for protection. The old city centre includes:
Yangon City Hall, designed by U Tin in 1925, the Strand Road with the Moorish arched General Post Office, The red brick Customs House, the towered Port Authority, The Queen Anne style Civil Court, the red brick General Hospital built in 1911 and the Railway Station. Take a break at hotel.In the afternoon, visit China Town area with various local foods, Indian ward with various street sellers and drive to Mawtin Jetty and take a rickshaw for a short trip along the Rangoon River that offers a remarkable atmosphere with spectacular colors for Kodak moment. Overnight at hotel.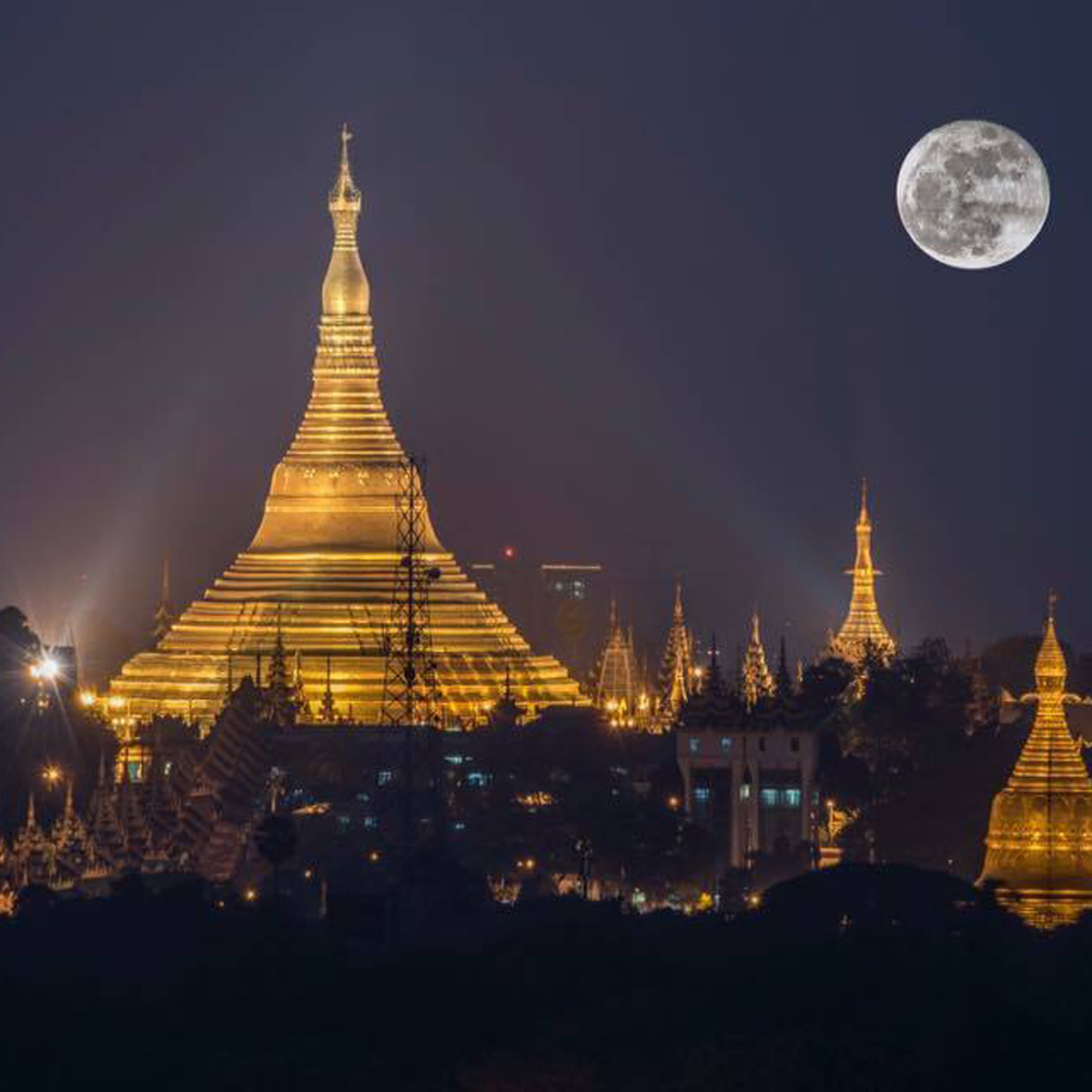 Day2. YANGON BAGAN (by morning flight)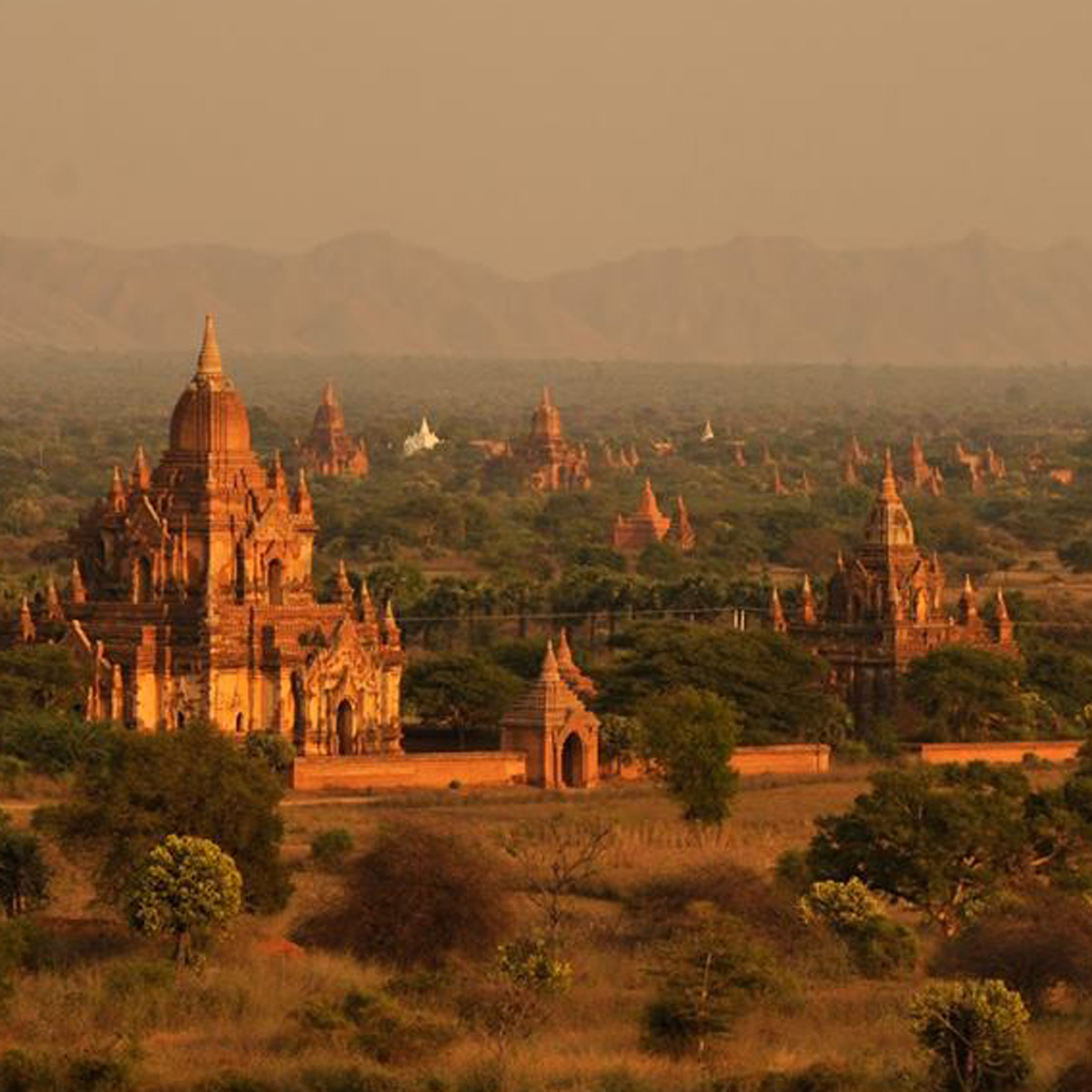 In early morning, domestic flight will take you to Bagan. Sightseeing start with Nyaung Oo local market, Shwezigon Pagoda, a prototype of real Myanmar stupa, built in 1087.Wetgyiin Gyubyaukgyi for its famous Jatakas mural painting, Htilominlo temple for its plaster carvings and famous Ananda temple with four standing Buddha Images. In the afternoon, visit lacquer ware factory in New Bagan, Nan Phaya temple, Manuha temple, Myingaba Gyubyaukgyi temple, Shwegyugyi temple and Thabinnyu temple. Enjoy the sunset of Bagan from Shwesandaw Pagoda. Overnight at Hotel.
Day3. BAGAN MANDALAY AMARAPURA SAGAING MANDALAY (by morning flight)
Take a morning flight to Mandalay; the last capital of Myanmar Kings. Upon arrival, proceed to Amarapura (the city of Immortal); visit the Mahagandayon monastery; famous for Buddhist learning centre. It is home to a thousand monks, who will from a procession as they to take their noon and final meal of the day. Amarapura was the capital of upper Burma until 1850.As it was the custom, most of the important wooden palaces and monasteries were taken down and transported to the new capital in Mandalay. Apart from pagodas that have survived, the ancient art of silk and cotton weaving, using handlooms is very much alive and visit U Bein wooden bridge, over 150 years old, which is still in use.
In the afternoon, proceed to Sagaing and visit silverware making at Ywahtaung village, Kaunghmudaw pagoda, drive up to Sagaing hill and visit Umin-thonese pagoda and Son-U-Ponyashin pagoda. Enjoy the sunset from this pagoda. Overnight at Hotel.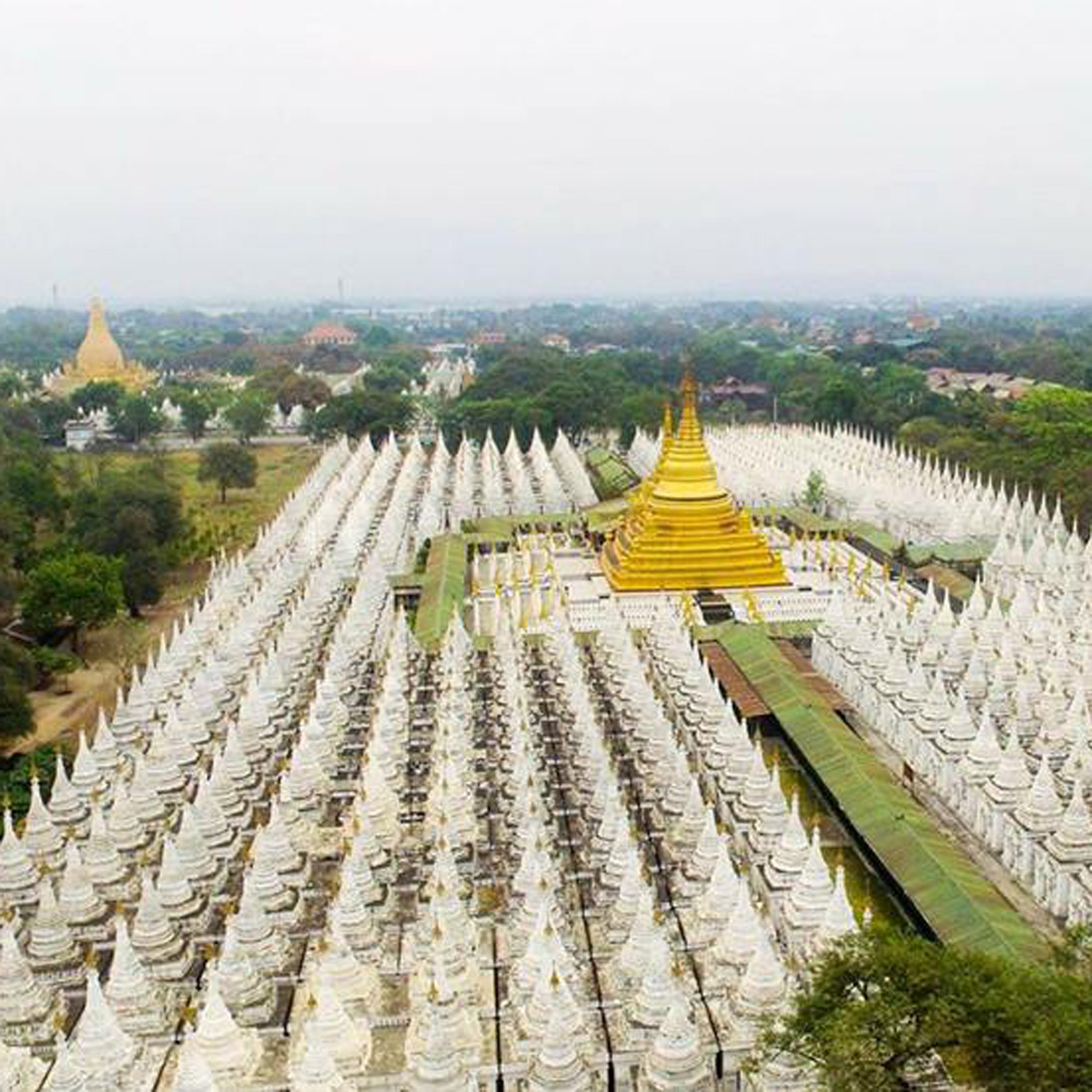 Day4. MANDALAY MINGUN MANDALAY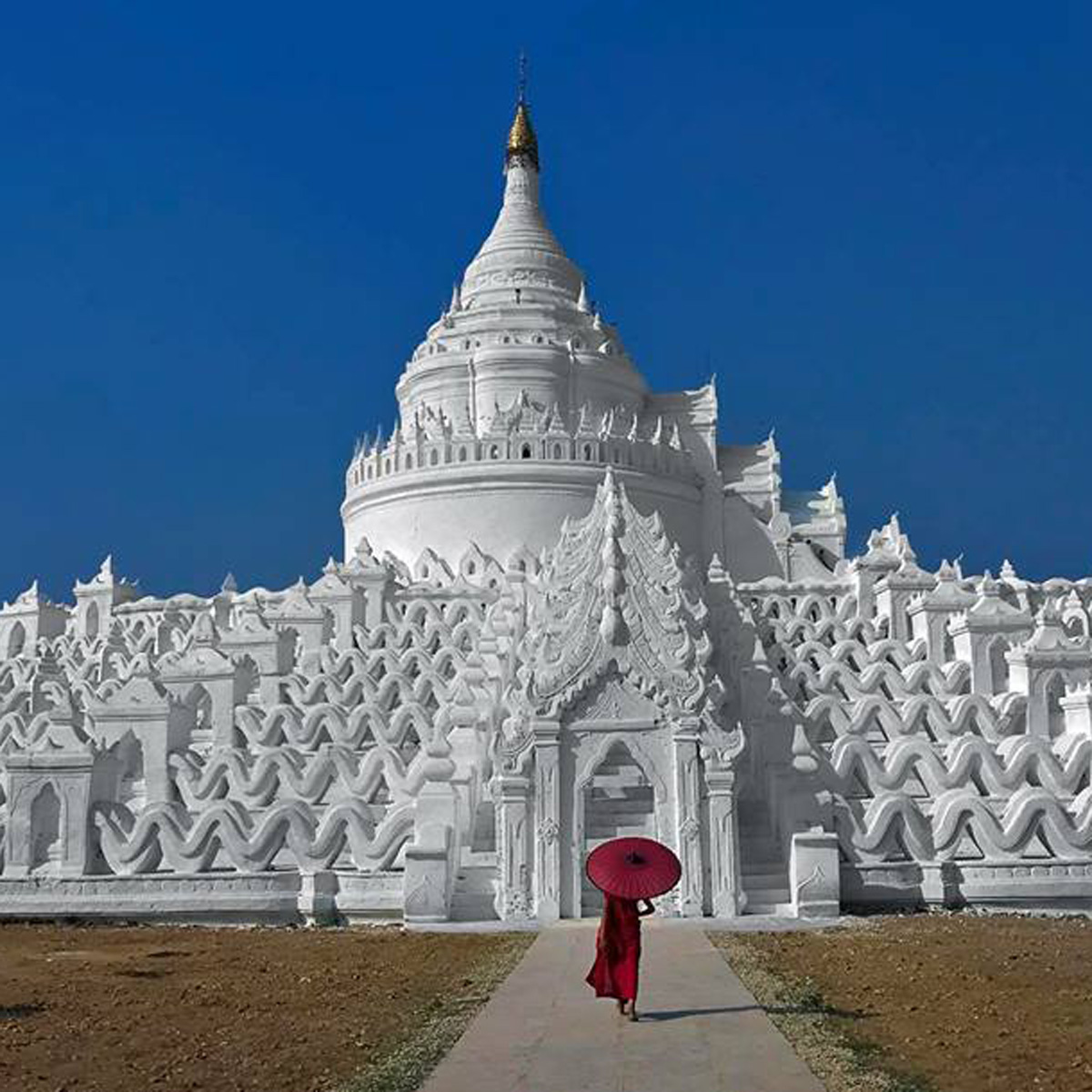 After breakfast, drive to Kywezon jetty to watch the busy riverside activity and take a local riverboat to the ancient capital of Mingun(app. 1 hour per way). Visit the Settawya pagoda, walk to the huge Mingun Bell(90 tons), see the nearby unfinished Mingun pagoda and visit the Hsinbyume pagoda, a reproduction of the mythological Mt.Meru.Then come back to Mandalay and In the afternoon, visit the down town area with the sprawling old Zegyo Market, designed in 1903 by Count Caldari, the picturesque open air market west of Zegyo, the Shwenandaw Golden Palace monastery noted for its exquisite wood carving, Kuthodaw pagoda with 729 stone tablets (known as the World's Biggest Book) and finally drive up to Mandalay hill (Anti-ageing hill) and take a panoramic view of Mandalay city. Overnight at Hotel.
Day5. MANDALAY YANGON (by morning flight)
In the morning, drive to Mandalay International Airport to catch the flight to Yangon. Upon arrival, transfer to your hotel and check-in. Today sightseeing is with the famous world renowned pagoda; the highlight of Yangon. The Shwedagon pagoda described by Somerset Maugham: "The Shwedagon rose superb, glistening with its gold, like a sudden hope in the dark night of the soul of which the mystics write, glistening against the fog and smoke of the thriving city". This massive bell-shaped stupa rises nearly 100 meters above its hill-top surroundings. Wander through this magnificent structure and its courtyards, stupa, bells, temples and Buddha images and see religious and secular visitors from all parts of the globe. Shwedagon has become the symbol of Myanmar. And visit Chaukhtatgyi Pagoda (72m long Buddha image),Karawaik Hall(designed as a Royal Floating Barge on Royal Lake) for Kodak moment.
In the afternoon you have enough time to wander around the sprawling Scott market and to drive through residential areas where you can still find some private old teak houses as well as with many beautiful galleries. Overnight at hotel.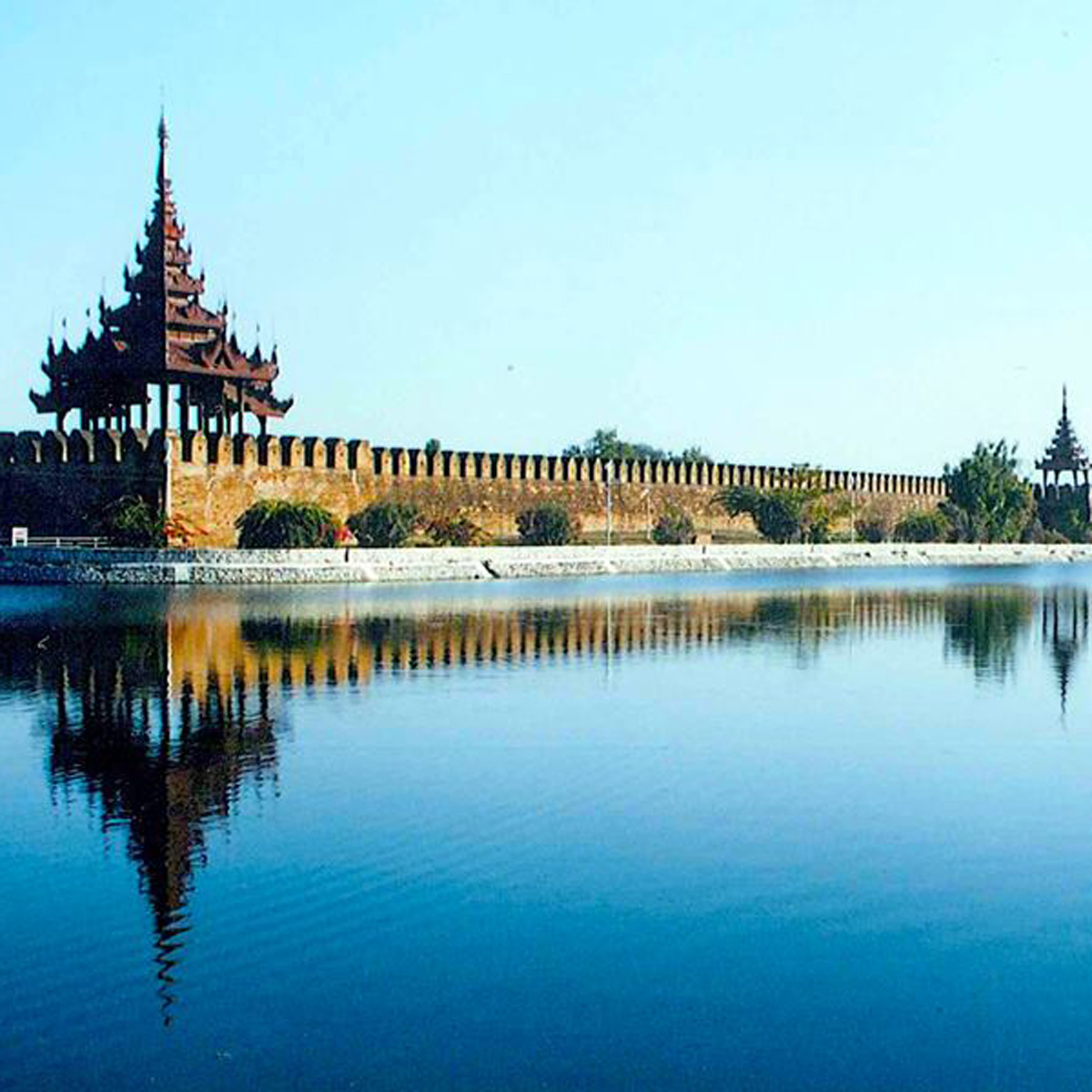 Day6. YANGON (departure with morning flight)
Today, the tour ends with the breakfast at hotel and transfer to Yangon International Airport for your departure flight.